We are Enclave:11, a company of and by software engineering professionals. We invest in our people, our facilities, and our capabilities. We provide Offshore Development Centers (ODC) for information technology outsourcing (ITO) and Information Technology Intensive Operations (ITIO). We also provide technical and management support for our assigned personnel and teams. We require and provide continuing education and professional development.
 ODC only. Providing Offshore Development Centers (ODC), for information technology outsourcing (ITO) and Information Technology Intensive Operations (ITIO)
 Scale: ODC engagements are generally long term (1-2 Years), and larger scale (25-100 engineers)
 High stability of workforce and operations
 Surprisingly Low Cost and High ROI
 Lowest Turnover(<2%)
 Highest proportion of Female Engineers (30%)
 Isolated from volatile ITO markets (Saigon and Hanoi)
 Bootcamp: 12-week rigorous training for new engineering graduates
 Fresh approaches in Human relations management
 Strong relations and support of higher education
 One of Vietnam's best employers and best places to work
 High IP security and strong engineering process
 Technology/Domain Exclusivity for ODC Clients (50+)
Enclave:11's Engineering Organizational Model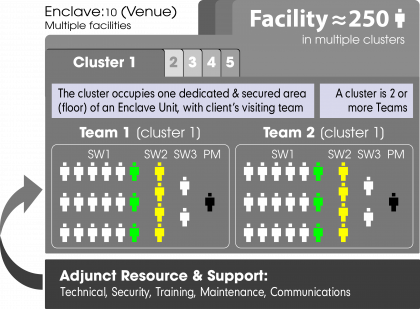 Genesis 
The three founding partners of Enclave:11 had this in common:
All were seasoned IT executives from the USA and UK.
All were long term residents of Vietnam, with intimate knowledge of the industry and Asian landscape.
They had experience on both sides of the ITO equation,  as clients and vendors.
All were also aware that while Vietnam was an idyllic venue for Offshore Development Centers (ODC),  most  executives sourcing ODC's in Vietnam were leaving empty handed. Any ITO could offer up an ODC, but they could not shed their bloated overhead, nor project delivery milieu.
This knowledge and experience launched Enclave:11-an ITO devoted entirely to Software Engineering, and ODC's only. Enclave:11 was established to meet the specific needs of ODC clients.
Enclave:11 opened it's doors in 2007, an upstart, in a novel venue, with a unique model, and a fresh, strategic, approach to ITO.  A perfect renewal record for ODC's has proven our model and our merits.
Every ODC begun at Enclave:11 continues in operation to this day.
Founded and professionally managed, by IT software and hardware executives with decades of global experiences with leading multinational high-tech firms and Vietnam ITO.

Hung (Harry) H. LE , CEO, Enclave:11